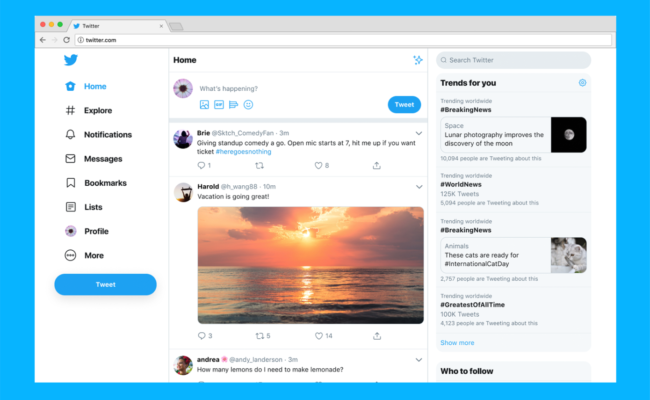 News outlets should be mortified by the way they describe themselves on Twitter.
Every high schooler knows that you can't choose your nickname. Happily, social media offers a remedy for people of all ages: the chance to write your own bio.
This ability to self-brand is priceless. Yet many fumble it. In fact, major media outlets approach their Twitter bios as if they were students cramming to finish their homework on the bus, rather than world-class wordsmiths. At a time when publishers are increasingly interested in driving social traffic to their sites, such box-checking results in a lost opportunity.
Does this description hit close to home? Does your Twitter bio read like a homework assignment dashed off en route to class? Fear not: here are 11 ways to burnish your brand.
1. Embrace your inner wit.
Social media rewards humor and punishes banality. So, infuse your tweets with personality.
For example, who isn't curious what the "best f#@king news team," i.e., the Daily Show, has to say? Surely, we're intrigued when a seemingly staid organization like CNN assures us, "It's our job to #GoThere." Meanwhile, Slate pledges to help us "procrastinate better," and the HuffPo affirms its love for "big fonts" and "Greek yogurt."
Do this:
| | |
| --- | --- |
| CNN | It's our job to #GoThere and tell the most difficult stories. Come with us! |
| The Daily Show | Jon Stewart and The Best F#@king News Team. Mon-Thurs at 11/10c on @ComedyCentral. Full episodes, videos, guest information. #DailyShow |
| The Huffington Post | internet lovers | sleep believers | news addicts | big font obsessives | greek yogurt fans |
| Slate | Politics, culture, technology, business, news, and commentary. Procrastinate better. |
| The Washington Post | Tweets about everything from breaking news to bad restaurants. Sometimes global, sometimes local. Led by @TJOrtenzi. |
2. Figure out your byline.
So who's pumping out these tweets? Is it an army of algorithms, like Google News, which once boasted, "No humans were harmed or even used in the creation of this page"? Is it a bunch of interns in Alaska? Is it a single person at HQ?
Take a cue from ABC, the Atlantic, MSNBC, the Tonight Show, and the Journal, each of which reveals the tweeters behind these avatars. Extra credit to the AP, which publicizes a list of the journalists who manage its social media channels.
Do this:
| | |
| --- | --- |
| ABC News | See the whole picture with @ABC News. Tweets from the Social Desk: @Springer @MicahGrimes |
| The Atlantic | Feed for The Atlantic magazine and TheAtlantic.com. Politics, business, technology, entertainment, health, global affairs. Managed by @c_heller. |
| The Associated Press | News, discussion and behind-the-scenes insight from The Associated Press. Managed 24/7 by a team of editors based in New York: http://apne.ws/J2EPJ5 |
| MSNBC | The place for in-depth analysis, political commentary and informed perspectives. Have questions? Tweet to @Farrashley and @NishaChittal |
| The Tonight Show With Jimmy Fallon | The official Twitter for Tonight Show Starring Jimmy Fallon on @NBC. (Tweets by: @marinarachael @christinefriar @thatsso_rachael) #FallonTonight |
| The Wall Street Journal | In our 125th year, breaking news and features from the WSJ. Tweets by @rubinafillion @elanazak @allisonlichter @sarahmarshall @toddjolmstead and @mayaj. |
3. That means naming names.
Why in the world would Mashable, one of the most widely read and the savviest publications today, waste precious characters to tell you its tweets come from "Mashable staff"? Who else would they come from?
Similarly, Time magazine should know better than to write that its Twitter account is "hosted by Time staff." As opposed to Newsweek staff?
The Los Angeles Times does slightly better, specifying that its Twitter team consists of editors from its website, yet even this disclosure is deficient.
Just as every magazine has a masthead and every article has a byline, so every Twitter account should have some sort of attribution.
Don't do this:
| | |
| --- | --- |
| The Los Angeles Times | News from Los Angeles and the world. Staffed by latimes.com editors. |
| Mashable | News, resources, inspiration and fun for the connected generation. Tweets by @mashable staff. |
| Time | Breaking news and current events from around the globe. Hosted by TIME staff. Tweet questions to our customer service team @TIMEmag_Service. |
4. Tell readers what to expect.
Get specific, a la the New York Times: "Follow for breaking news, special reports, NYTimes.com homepage links and RTs of our journalists."
Describe your unique value, a la TMZ: "TMZ has consistently been credited for breaking the biggest stories dominating the entertainment news."
Identify your audience, a la New York: "Defining the news, culture, fashion, food, and personalities that drive New York."
Do this:
| | |
| --- | --- |
| New York Magazine | Defining the news, culture, fashion, food, and personalities that drive New York. Tweets by @stefanjbecket. |
| The New Yorker | The New Yorker is a weekly magazine with a mix of reporting of politics and culture, humor and cartoons, fiction and poetry, and reviews and criticism. |
| The New York Times | Where the conversation begins. Follow for breaking news, special reports, NYTimes.com homepage links and RTs of our journalists. |
| TMZ | TMZ has consistently been credited for breaking the biggest stories dominating the entertainment news landscape and changed the way the public gets their news. |
| Vanity Fair | Find out first about newly posted magazine features, exclusive slide shows and videos, and pointed commentary from the VF Daily blog. |
5. Recycle your tagline.
This way, when the potential advertiser your sales guy just met subsequently checks your Twitter feed, he sees the same spin he got fed over lunch. Forbes erects this echo chamber expertly by repeating the claim, verbatim from its ads website, to be the "homepage for the world's business leaders."
Do this:
| | |
| --- | --- |
| The Daily Beast | Read this, tweet that. 2012 & 2013 #Webby winner for best news website! |
| Forbes | Official Twitter account of Forbes.com, homepage for the world's business leaders. |
| National Review | Standing athwart history, yelling Stop. National Review is a biweekly magazine and daily website, founded by the late William F. Buckley Jr., in 1955. |
| Wired | WIRED is where tomorrow is realized. |
6. But try to avoid repeating your name.
It's particularly sad that Business Insider, which is loathed and loved for its click-baitish headlines, has put so little thought into its bio: "the latest business news and analysis." (Ugh.) Likewise, does anyone really benefit from knowing that Politico covers "politics" and "political news"? (Yawn.)
A bronze medal of shame to Rolling Stone, that cradle of the counterculture, which apparently can't muster anything more specific than "the latest news and more from Rolling Stone magazine and RollingStone.com." And a dishonorable mention to TechCrunch for its hasty filler, "Breaking technology news and opinions from TechCrunch."
Do this:
| | |
| --- | --- |
| Business Insider | The latest business news and analysis. |
| Politico | Politics, Political News |
| Rolling Stone | The latest news and more from Rolling Stone magazine and RollingStone.com. |
| TechCrunch | Breaking Technology News And Opinions From TechCrunch |
7. Don't waste space declaring your account to be "official."
Instead, petition Twitter for a blue badge that shows your account to be "verified," and use your newfound space for something else—maybe #1, #2, #4, or #5?
Don't do this:
| | |
| --- | --- |
| Bloomberg Businessweek | The official Twitter of Bloomberg Businessweek. Covering the business world like no one else. |
| NBC | The official Twitter profile for NBC. |
| Vogue | The official twitter page of Vogue Magazine. |
| The Washington Times | Official Twitter Account for The Washington Times |
8. Or asking people to follow you.
Love the snark, Playboy, but do you need to seem so… desperate?
Don't do this:
| | |
| --- | --- |
| Playboy | Follow @Playboy. The brand that's been pushing (and removing) buttons since 1953. |
9. Or referencing your URL.
Twitter offers a separate field for that.
Don't do this:
| | |
| --- | --- |
| Fortune | FORTUNE's official Twitter feed. Here's what we're hearing, seeing, reading and writing. Visit us at fortune.com |
10. Unless you're promoting something timely.
As the BBC is doing with its new shows, BuzzFeed is doing with its app, Cosmo is doing with its current issue, and the FT is doing with its pay wall.
Extra credit to Fitness, which gives over its avatar to the current cover of its monthly magazine, and to Vanity Fair and Maxim, both of which use their wallpaper for same.
Do this:
| | |
| --- | --- |
| BBC America | New episodes of #OrphanBlack premiere Saturdays at 9/8c. New episodes of #WildThings with Dominic Monaghan every Tuesday at 10/9c. |
| BuzzFeed | Worth Sharing. Download the BuzzFeed App: http://bzfd.it/APP |
| Cosmopolitan | DAMN, GIRL. @KaleyCuoco slays on the May cover of Cosmo: http://www.cosmopolitan.com/kaleycuoco ❤ |
| The Financial Times | News stories, features and updates from the FT. For headlines follow @financialtimes. Register http://on.ft.com/socialregs for free access to 8 articles p/m. |
11. Direct them elsewhere as appropriate.
You wouldn't force your writers and editors to handle missed deliveries and subscription changes. So why expect them to deal with these issues when they arrive via social media? The solution: create separate channels for separate departments, as People and Sports Illustrated do, and use the bio in your mother ship to call attention to your help desk.
Do this:
| | |
| --- | --- |
| People | PEOPLE.com is the No. 1 site for celebrity news! Tweet your questions to our customer service team @Peoplemag_Help |
| Sports Illustrated | Breaking news, conversation and original reporting/insights on all sports. Customer service contact: @SI_Customer_Svc |
Will a bad bio break your brand? Truth be told, it won't. Business Insider, Politico, and TechCrunch have all amassed huge audiences (half a million, three quarters of a million, and 3.5 million respectively), even though their corporate bios are embarrassingly vapid.
But consider this: every day, your customers face a fusillade of demands for their attention—tweets, texts, direct messages, Snapchats, Whispers, emails, voice mails, app notifications, calendar reminders, Fitbit alerts, friend requests, and so on. Spend an hour fine-tuning seemingly trivial tactics like your bio, and you'll convert some of these drive-by visitors into avid followers.
---
Let me know which bios you'd nominate for the halls of shame and fame by tweeting me at @jrick.
A version of this blog post appeared on ClickZ on September 25, 2014.