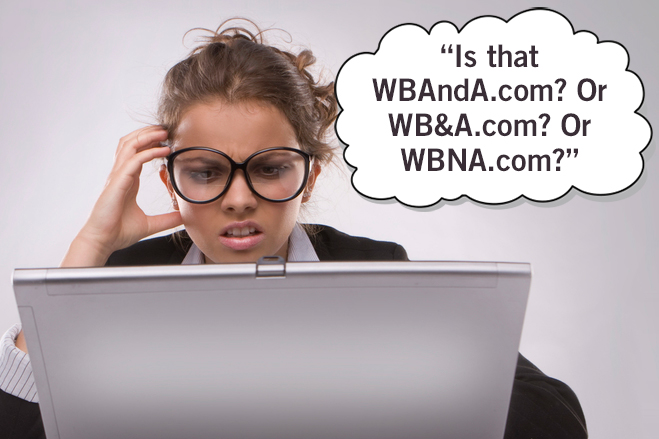 When creating their company website, many small businesses defer to their "web guy" on the address. "Oh, JanesFlowers.com isn't available? Ok, JanesFlowers2.com is fine."
No! No! No! While seemingly trivial, your URL is in fact critical. Don't let it be an afterthought; make this decision an integral facet of your planning and branding.
After all, not only will your domain be printed on your business cards and in your email signatures. You'll also need to pronounce it in a way that leaves no room for confusion.
Consider a few case studies.
Bad
1. New Media Strategies
Founded in 1999, New Media Strategies had the perfect name: before people called it "social media," the playground of Facebook and YouTube was known as "new media." Yet NMS's website — NewMediaStrategies.net — was awful: long and .net. Recognizing this, several years ago, NMS changed its site to the simpler, shorter NMS.com.
2. WBA Research
WB&A Market Research has an ampersand in its name. This led the company to choose the domain, WBAndA.com. The problem: there are several possible ways to spell this. Is it WBAndA.com? Or WB&A.com? Or is it WBNA.com? After years of frustration — and, no doubt, lost customers — the firm is relaunching its site next month as WBA.com.
3. The Department of Labor
Most federal departments follow a simple formula for their URLs: the Defense Department uses defense.gov; Energy uses energy.gov; Commerce uses commerce.gov; Justice uses justice.gov; Interior uses interior.gov; State uses state.gov.
Not the Labor Department. Type "labor.gov" into your address bar, and you're met with the friendly message, "Invalid URL." Apparently, we're supposed to know that the Department of Labor is located at DOL.gov. (No one ever accused the federal government of employing common sense.)
Ditto for the Agriculture Department. You'd think its site would be agriculture.gov, right? Think again. It's USDA.gov, as in "United States Department of Agriculture."
(At least the Homeland Security Department had the sense to claim HomelandSecurity.gov and redirect it to DHS.gov, just as the Education Department redirects Education.gov to Ed.gov.)
4. Therapist.com
The classic example is Therapist.com. Wow, they must have paid a bundle for this domain, right? Perhaps — until you capitalize the "R," thus spelling TheRapist.com. Then your shrink becomes your molester. (See similar examples here.)
Good
1. Engage
The website of political media firm, Engage, is EngageDC.com. This is savvy branding — Engage is based in Washington, DC and draws many clients from the capitol — and why the company doesn't seem to mind that it's often referred to as "Engage DC." (The same principle holds for another political media firm headquartered here, CRAFT, whose website is CRAFTDC.com.)
2. The American Conservative Union
By the time the American Conservative Union discovered the Internet, the URL, ACU.org, was already taken. Yet recognizing that the voice of conservatism ought to have a web presence that reflected this mission, ACU laid claim to conservative.org. Again: savvy branding.
3. Susan Davis International
When deciding on its URL, PR agency, Susan Davis International, entertained several options: SusanDavisInternational.com, SusanDavisIntl.com, SusanDavisPR.com, SDI.com, SusanDavis.com, and so on. It chose the latter, electing a happy medium between its formal name and its acronym, without letting suffixes like "PR" or "Intl" intrude. (Sorry Congressman Davis.)
The bottom line: your uniform resource locater — otherwise known as your URL — is more than a string of characters. It's your online calling card, a key component in your digital toolkit. Give it the consideration it deserves.
---
Follow me on Twitter (/jrick), connect with me on LinkedIn (/jrick), and ignore me on Google+ (/115431937490565959014/.
A version of this blog post appeared on FreeEnterprise.com on April 17, 2013, and in GovernmentCIO on July 1, 2014.