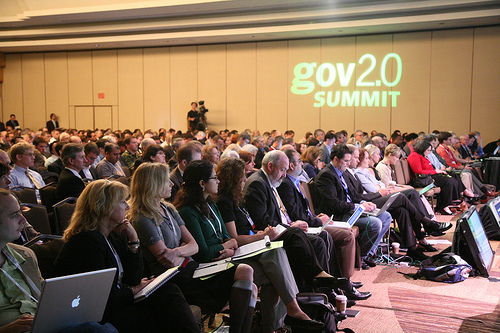 "Success is a lousy teacher," Bill Gates once quipped. We learn so much more by studying our failures than we do by sipping champagne.
Sadly, this lesson seems to be lost on the organizers of Gov 2.0 conferences. As my colleague, Steve Radick, observes, we don't need another event to learn about the virtues of transparency or crowdsourcing; we need an event to learn how to secure and expand buy-in for these things from the C suite. Specifically, Steve suggests, we need to do three things:
"1. Realize that not all is perfect in the land of Gov 2.0. While we've had a lot of success, let's not sweep our weaknesses under the rug. Let's identify what's going wrong and talk about it. We have showcases to talk about all of the successes—why don't we have an event to talk about the challenges we're facing and how to overcome them?
"2. Identify the skeptics and open up a dialogue with them. Let's stop talking about how great we all are amongst ourselves. I want a conference where that CIO who continues to block access to social media talks about why he's blocking it. I want to hear from that Admiral explaining why he's banned his sailors from using social media. I want to go to an event where I can talk with the guy who decided to shut down the UGov e-mail system and learn more about the pressures he's facing.
"3. Hear the war stories of the people who have gone before us. Listen, I know that there have been people who have been fired, reprimanded, demoted, moved to another project, and just flat-out yelled at for some of their Gov 2.0 efforts. What happened and why? What are the battles that people are facing? What are the battles that have been won and lost? I know that I've dealt with people yelling at me, laughing at me, and/or dismissing me for my Gov 2.0 efforts over the last three years—I'm sure there are others out there who would be able to learn from these experiences, just as I have.
Happily, it appears that a remedial confab, The Shortfalls of Government 2.0, is in progress. Here's hoping this shortfall will become our windfall.