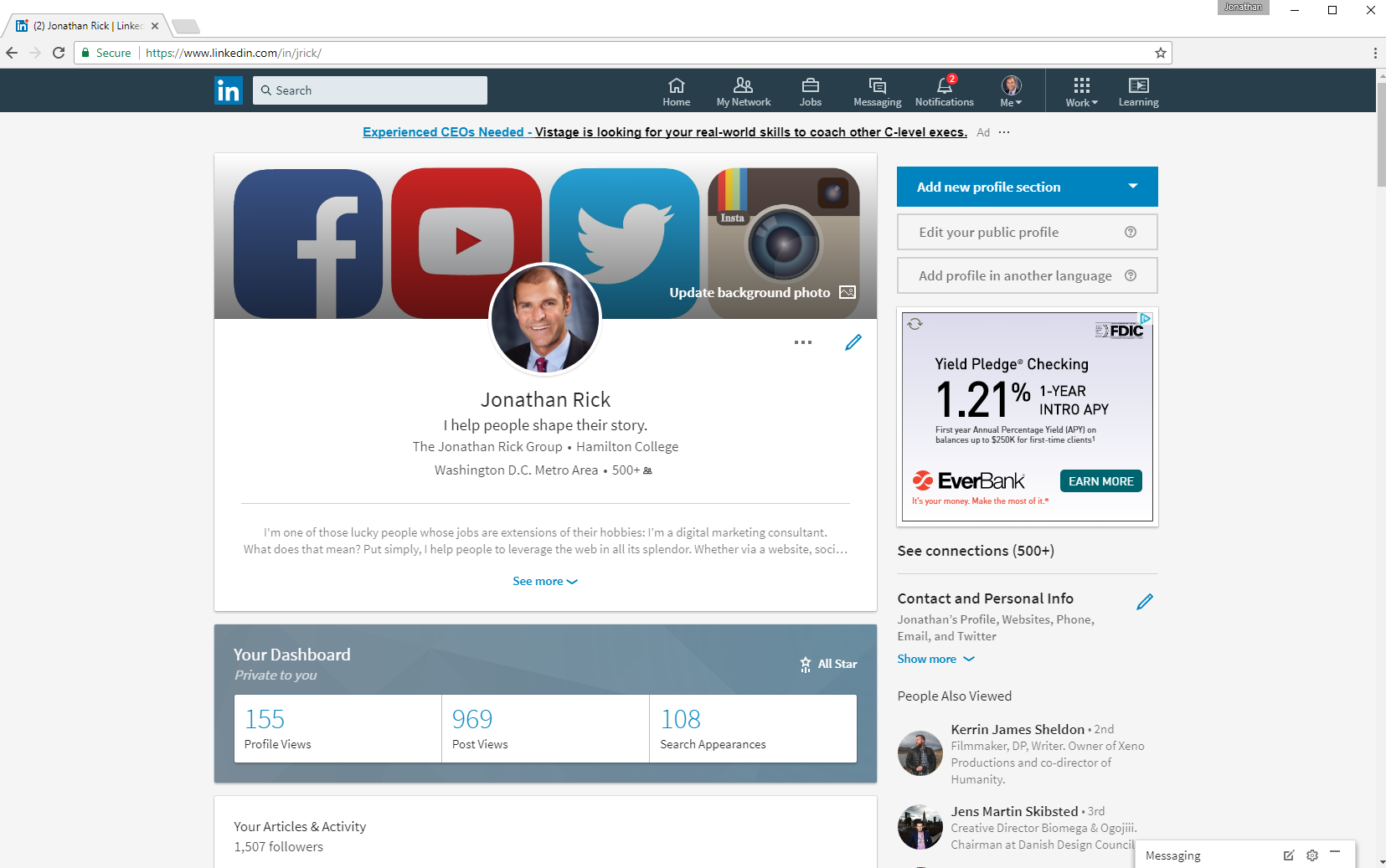 For a one-time flat fee, I will overhaul and optimize your LinkedIn profile — both your individual one and that of your company. Here are the details:
About Me
I run a digital-marketing agency in Washington, D.C., and have done LinkedIn work for more than 100 professionals — writers, consultants, executives, academics, students, founders, lobbyists — even craftsmen. I love doing this stuff so much that I also teach it at the University of Maryland.
Scope
I follow a four-part process:
1. Call
We'll do a phone call wherein you identify your goals, describe the vision for your new brand, and highlight the key points of your career.
2. Research
You'll send over any materials you think may be helpful, including a résumé (this is the most important), a list of awards and certifications, news articles, and anything else you'd like to incorporate. (Don't worry at all if you lack material; I can work with whatever you have.) At the same time, I'll conduct independent research to fill in the gaps and integrate any additional info.
3. Overhaul
Using the above info, I'll prepare a new profile for you in a Microsoft Word document. This includes a variety of new taglines you can use to pitch yourself. When done, I welcome your feedback via the phone or track changes in Word.
4. Launch
I'll make your new profile live, then help you execute a battery of best practices to promote it (including tested ways to garner endorsements and recommendations).
Testimonials
"Jonathan is among the most reliable and responsive professionals with whom I've ever worked. His recommendations are spot-on and his follow-through is thorough and effective. I recommend his services to anyone seeking creative solutions that make a real difference in the bottom line." —Gene Grabowski, kglobal
"Jonathan is a master marketer. He possesses that rare combination of being able to create a compelling message and leverage technology for widespread impact. Jonathan is a true leader in his field, respected by his peers and extremely knowledgeable about the latest trends, strategies, and tactics." —Greg Galdabini, HudsonLake Strategic Communications
Browse My Work
Check out my LinkedIn workshop:
Intrigued?