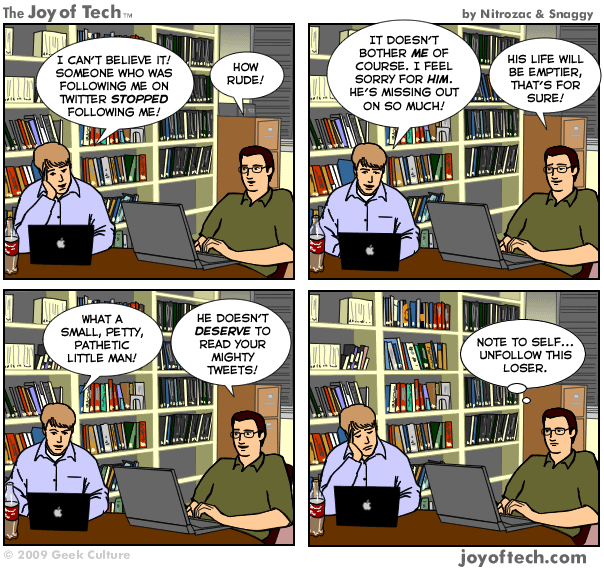 A version of this blog post appeared on Blogcritics on June 15, 2011.
It's only natural. Each time you glance at your stats, you can't help but notice that the number of your followers has dipped. Who defriended me, you wonder? Sometimes you have an inkling. Wouldn't it be nice if there were a way to confirm that suspicion, a service that automatically notified you of your shrinking status? Let's review the top four free services that promise to do just that.
1. Goodbye, Buddy. If you follow @GoodbyeBuddy, within a day or two, this bare-bones program will chart anyone who's unfollowed you. It checks for changes "many times a day," and publishes the result every two.
The pros: The FAQ is funny.
The cons: The only way to see who's unfollowed you is to visit GoodbyeBuddy.com; there's no way to be notified—unless you pay $2/month, in which case you'll get a DM for each defriending.
The takeaway: It doesn't work. Despite having registered with the service about two weeks ago—and been unfollowed by more than a dozen people since then—Goodbye, Buddy reports that I have "0 unfollowers."
2. TwentyFeet. TwentyFeet presents an array of tidy charts about your Twitter and Facebook accounts. (For $2.50/year/service, you also can learn more than you wanted to know about your bit.ly, MySpace, YouTube, and—WTF—Google Analytics accounts.)
The pros: Lots of data. And bonus points to founder Martin Seibert for responding to tweets.
The cons: No notification; the only way to see who's unfollowed you is to visit TwentyFeet.com, where you need jump through several screens.
The takeaway: If you have patience and love data, give TwentyFeet a whirl.
3. Qwitter. Qwitter sends you a daily e-mail showing your former friends.
The pros: It's been around for a while.
The cons: The "daily" e-mails arrive every month or so; the last one I received came on April 6.
The takeaway: Would be great if it worked as promised.
4. Nutshell Mail. Owned by Constant Contact, NutshellMail delivers a daily e-mail detailing your activities on Twitter, Facebook, LinkedIn, YouTube, Foursquare, Yelp, and Citysearch. (It also tracks MySpace, but who uses MySpace anymore?)
The pros: Easy to use and powerful. You can specify the time of your e-mail, and customize which data the message displays.
The cons: None. (The e-mails don't even have ads.)
The takeaway: To use NutshellMail is to love it.
Addendum: As it happens, the Gadget Cage blog recently ran a similar post.